This post is most definitely long over due! I said this would be coming since last month but I wanted to actually sit down and explain why exactly I like these products and this isn't just "oh this moisturiser feels sooo nice on my skin", this is "this actually works because of this active ingredient". But I have been so busy with starting my new job and going to Bali……. (take me back already).
*And FYI I have dehydrated – dry skin*
Lets begin with the products I am currently using for my morning routine.
I will firstly scrub my face with the Una Brennan, Rose Hydrate, Brighten and Refine Facial Scrub
Now I picked this up at boots around December time when I had the worst, red, flaky dry patches that decided to make an appearance. It really does work. The texture is quite gritty and not that much creamy so it probably isn't great if you're someone who doesn't like taking the first layer of your skin off… no no I'm joking, it is harsher than say the St Ives Apricot Scrub but it is actually formulated for sensitive skin and the rose helps to soothe and hydrate your skin. But it does really help to scrub off the dead, dry skin with Pro Vitamin B5 and white willow extract, leaving you, well me, with a lovely smooth base. It retails at £8.99 but it's on offer a lot at Boots in the UK for around £5.99. If you want to read up more on Una Brennan's brand, Super Facialist then just click here.
The next step I go with the M&S FORMULA Radiance Boosting Tonic
This is literally a dupe for the Pixi Glow tonic which is £18 for a big bottle compared to £7.50. They do exactly the same thing. Both exfoliating toners through 5% glycolic acid which part of the active compounds AHA's (Alpha Hydroxy Acids). Glycolic penetrates the skin deeply to treat fine lines, acne, black heads, dullness and hyper pigmentation. So basically it unclogs your pores effectively to give you a more radiant complexion. I really don't see the point in using a toner if it doesn't DO anything for your skin. You could get one with salicylic acid which is great for spot prone and oily skin. So basically look at your face and see what treatment you could benefit from.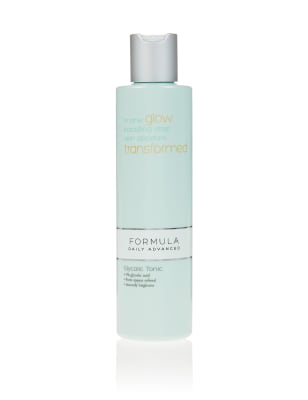 For the past couple of months I have been using the Super Facialist Vitamin C+ Glow Boost Skin Serum
Vitamin C is an antioxidant that can do wonders for your skin at a high percentage as it has lots of anti-ageing properties. It can boost collegen, replenish and enhance the appearance of your skin. This particular serum is the first with vitamin C in it that I have tried and as this does contain hyaluronic acid too (which locks in moisture…I will go into more detail about this in another product), I'm not exactly sure what percentage of vitamin C this does contain, so I would like to try another with a high one when this has finished. But I have noticed that my skin is brighter and smoother and spots are less but I'm not definitely sure it is because of this product or because of everything together. It does leave a lovely dewy glow before applying makeup as well. This retails at £16.99 at Boots.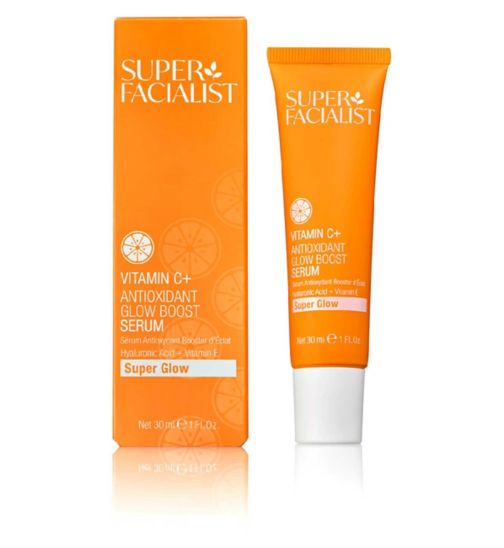 So lastly for the morning concoction is the Garnier SkinActive, Rose Water day cream
To be honest, there isn't much to say about this other than, it's light, hydrating and soothing thanks to the rose water which is lovely as some other cheap moisturisers can sting when used with the glycolic toner like I found with the Garnier Moisture Bomb. What is great about this product is that it has 96% natural ingredients and the other 4% is made up of "quality preservation for the ingredients" according to their website.
Now, honestly, you do not need to spend a fortune on a moisturiser UNLESS you want it to have an active ingredient in as well. But at the moment, I'm getting those from the serum and other masks that I'm currently using. So this moisturisers little purpose is to simply hydrate that top layer of skin without bloody irritating it. It retails at £5.99 at Boots but both times I have purchased it has been on offer for £3.99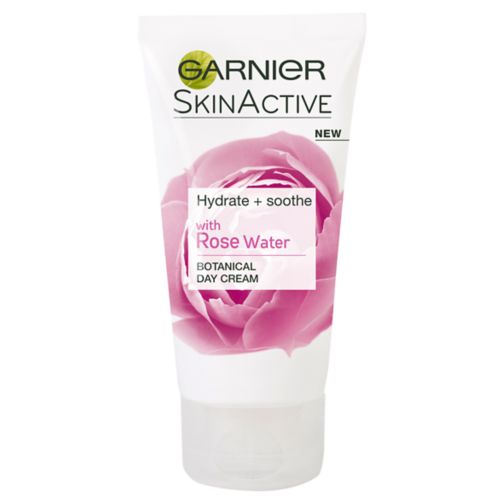 For my evening routine, I will always always use a makeup wipe first, usually the Johnsons sensitive ones or simple as they don't leave my skin on fire like some others. Then I have been using the new Neutrogena Hydro Boost, Gelee Milk Cleanser
This cleanser is a 'no rinse' formula which is cooling on the skin. It has hyaluronic acid as well which is naturally found in your skin and it aids the cleanser to form a barrier to lock the moisture into your skin to boost hydration. Again this is a nice one because of the active ingredient and because you can leave it on it means the hyaluronic will soak into your skin instead of washing it down the sink. It retails at £7.99 at Boots but I'm pretty sure I got it for half the price when it was on offer.
After this I will use the same toner, serum and moisturiser if I'm not applying any other treatments or masks but if I am, I will be using these:
Usually once a week on a Sunday I will use this Dr Organic Rose Otto Face Mask
This is great because its an all natural product from Holland and Barrett. The rose again is soothing and hydrating but the mask is also very deep cleansing due to the kaolin clay which draws oil from your pores, which brings your impurities out and says goodbye to dead skin too. It has other ingredients like aloe vera which is also good for soothing, shea butter, cocoa butter, vitamin E and more. All in all it makes my skin feel resurfaced and super smooth. I do usually break out in at least one huge spot, usually around my chin or cheeks after using but I will go on to talk about what I have found to help the massive crater go down in one night! This retails at £7.99.
The second treatment I have been doing every few days is using the ALPHA H Liquid Gold
This is the most luxury item I have here but that is because I have a sample size which came in my beauty calender over Christmas. It retails at £33.50 for 100ml and you can get it from Cult Beauty, Asos and more. Now this is so good as it's basically an intense version of the toner as it's an overnight treatment. Cult Beauty says it, ' harnesses the cell-stimulating and exfoliating properties of alpha hydroxy acids, which melt the 'glue' that binds dulling dead cells to skin's surface, revealing the healthy 'new' skin cells beneath'. There is more detail about the product if you click the link. But honestly, I don't know if I would want to purchase this for the price, I'm on the hunt for a dupe!
Ok so lastly it's my favourite discovery by far! I was on the hunt for a hyaluronic acid serum but I found this mask instead, the Nip + Fab Dragon's Blood Fix Plumping Mask
It is literally amazing. It does everything it does. It plumps the look of wrinkles and refines the texture of my skin and it draws water to the outer layer of the skin to keep it hydrated through glycerin and hyaluronic acid. The 'dragon's blood' is 'sap' which is found in the Croton Lechleri tree in the Amazon which forms a protective 'second skin' which works to protect the skin from outside aggressions, reduces irritation and redness and heals the skin. The mask also contains salicylic acid which is pure magic in this formula. I had such a big spot which actually hurt and by the morning it was practically gone, makeup covered the last mark. It says you can either leave it on for ten minutes or leave it on over night which is all I have done, I would leave it on all day if I could.
Now I just want to talk about the brand for a second, so Nip + Fab is founded by the same genius woman who founded the luxury skincare brand, Rodial. But they are literally the same thing just targerted towards different age groups. Obviously Rodial is targeted towards older women, with more complex skincare treatments as they are known for their products being an alternative to surgery and Nip + Fab are obviously aimed at girls in the 20s and maybe 30s who don't want to be paying a ridiculous amount of money. But they are just so similar, like they have the same ranges ok. Rodial do a Dragons Blood range as well and a mask which pretty much does the same thing, except the ingredients are slightly different and will be more expensive (at least I hope they are for £45 in comparison to £14.95, although I even got mine for half of that price at Superdrug.